A new Adnimation study that provides concrete data on the efficacy of interstitial ads was recently featured in AdMonsters.
Our study analyzed data from 50 randomly selected publishers, 25 based in the United States and 25 based in Europe, over the course of three months.
The study showed that the average eCPM (effective cost per thousand impressions) for interstitial ads was a staggering 4,094% higher than the average eCPM for traditional banner ads. This trend held true for both US and European publishers, with interstitial ads showing an average eCPM increase of 3,996% and 4,192%, respectively, over banner ads.
To learn more about the findings, AdMonsters' Associate Editor Yakira Young conducted an interview with Adnimation Co-Founder and President, Tomer Treves. During the interview, Tomer discussed the pros and cons of interstitial ads and explained how interstitial ads can help publishers boost revenue while showing fewer ads.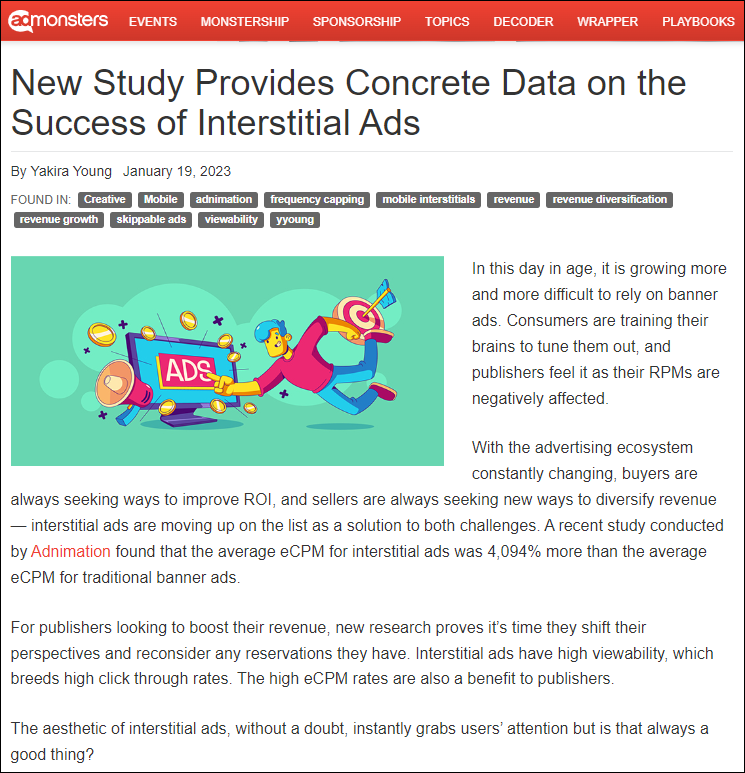 Yakira Young: How can publishers use interstitials as a revenue driver while showing fever traditional banner ads?

Tomer Treves: Due to the high prices advertisers are willing to pay for interstitial ads, you can reduce the number of regular display banners while generating more revenue. But it's more complicated than it sounds because you need to have smart frequency capping and smart decision-making in real-time to know when to show interstitial ads, to whom to show interstitial ads, and how to optimize the ads to have such a high eCPM.

It's not that every advertiser is willing to pay so much. They need to understand the return they get on that unit, and there is a huge gap between how much they're willing to pay and how much they're actually charged. That is why you need sophisticated technology and ongoing management to maximize prices to the level we can get for our publishers.

It's not just a small piece of code and 'wow, I'm making so much money.' It requires advanced technology and ongoing real-time management like the service and technology that Adnimation offers its publishers. It's not an easy solution, but it's a smart solution.
Read the full interview here on AdMonsters.
Interstitial Ads: Pros and Cons
For more information, it's best to learn more about the advantages and disadvantages of interstitial ads.
If you're still unsure if interstitial ads are the right fit for you, feel free to reach out to our team for a free consultation.