In October 2022, a major CTV publisher contacted us.
The publisher, which operates apps on Roku, Amazon, Apple TV and Android TV, read about the first-ever Google CTV monetization product that was granted to Adnimation.
The publisher's leadership was seeking to boost its ad revenue and was hopeful that Google's video monetization was the key.
Harnessing the Power of Google's CTV Ads
Prior to partnering with Adnimation, the publisher was generating ad revenue via a variety of ad demand sources.
The publisher's apps are in high demand, so it succeeded in generating a significant amount of revenue. But there was a lot of room for improvement.
After an in-depth meeting, the company's leadership decided to partner with us and we immediately went to work implementing Google's premium CTV ad monetization product.
The Results – More than $1,000,000 in Monthly Revenue, Boost in CPM and Fill Rate
The results were instant.
From the moment we implemented our Google product, the company's monthly revenue exploded to a whopping $1.31 million!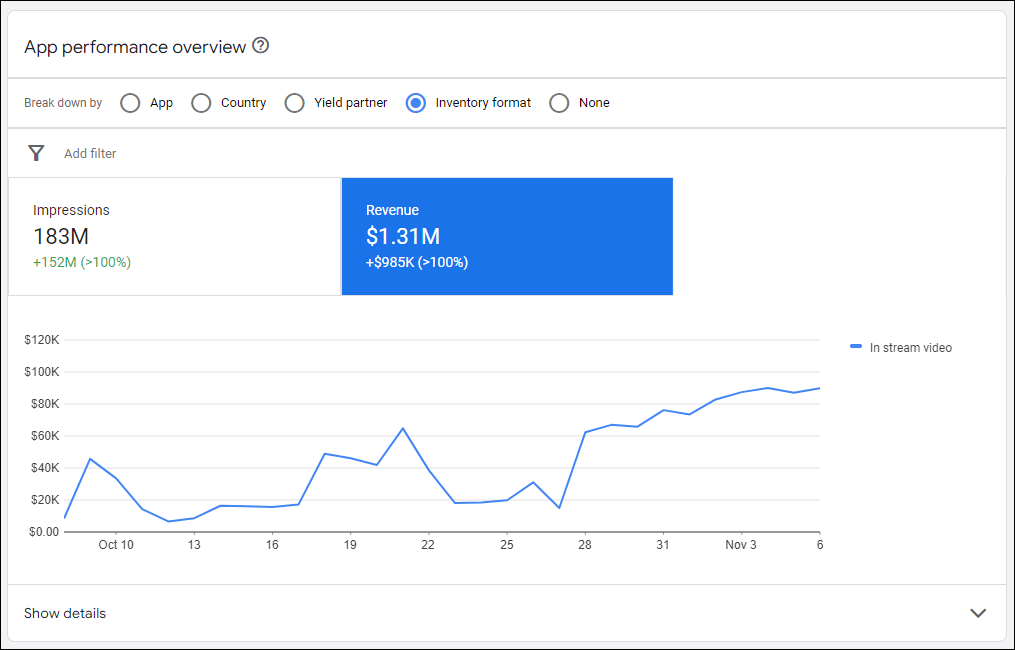 Unsurprisingly, the fill rate and CPM also skyrocketed by an average of 40%.
The publisher is still in disbelief at the numbers and their only regret is that they didn't partner with us sooner.
Looking to Boost Your CTV Ad Revenue? Look No Further Than Adnimation
Thanks to Google's CTV monetization license, Adnimation's partnering publishers have a big advantage in creating competition between advertisers over their video ad inventory.
Don't miss out on generating more revenue.
Contact Adnimation today and take your business to the next level.