Your website is generating excellent traffic, you're consistently producing quality content, and now you want to take your ad revenue to the next level by placing as many ads as possible on your website – right? Wrong!
There's a common misconception among publishers regarding ad-to-content ratio that placing more ads will lead to higher revenue; however, this strategy is not only unproductive but could harm your overall ad performance and revenue.
Here's why:
Lower CPMs and CTRs
Think about it: The reason that advertisers spend money to run ads on your website is to drive traffic to their ads. But if you serve ads on every available inch of your site – without regard for viewability – there's a lower chance that people will click on the ads because your site will be overcrowded.
A congested site will harm your CPMs and CTRs, which will subsequently make your site less attractive to advertisers, who will either bid less or abandon the site altogether.
Serving less well-placed ads on your site will improve your CPMs and CTRs, strengthen your ad inventory, and ultimately grow your ad revenue.
Poor UX
Good user experience is critical for generating repeat users and reducing the bounce rate on your site.
Blasting as many ads as possible might be profitable in the short term, but it will inevitably drive away users who don't want to be bombarded by a never-ending storm of ads.
Placing less, higher quality ads will guarantee a good user experience that will facilitate more repeat users. This is key for generating consistent and long-term ad revenue.
Lower Search Engine Ranking
Overcrowding your site with ads can also harm your ranking in Google, which employs several algorithms that impact ad-to-content ratio:
Page Layout Algorithm: Impacts sites that have too many ads above-the-fold, i.e., the portion of the page that can be seen before scrolling down.
Page Speed Algorithm: Impacts sites that load slower, which frequently occurs when too many ads are displayed on the site.
Core Web Vitals: Prioritizes sites that have more accessible content and better UX.
Google Policy Infringement
The last thing you want is to get blocked by Google. But that's exactly what could happen if you serve more ads than content.
According to Google's More ads or paid promotional material than publisher-content policy, serving "more ads or other paid promotional material than publisher-content" can result in Google blocking your ads or suspending/terminating your account.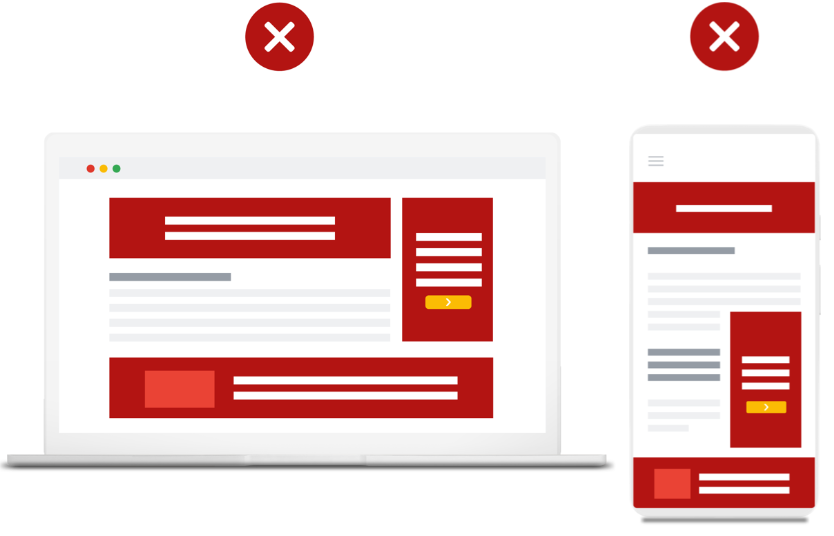 Source: Google
So, What's a Good Ad-To-Content Ratio?
While each site is different and there's no magic number that will guarantee success, our ad experts recommend not exceeding a 40/60 ad-to-content ratio. This is especially important above-the-fold, which is extra sensitive to the ad-to-content ratio.
Serving less ads on your site will ensure that you don't overburden the user or provoke the ire of Google's algorithms, which might trigger should your ad-to-content ratio exceed 50%.
In fact, when asked this same question, Google's Search Advocate John Mueller gave the following response:
There is no specific number that search recommends. From your own experience using websites, you've probably seen what "too much" is like, so make something that you think users will enjoy coming back to.

— 🌽〈link href=//johnmu.com rel=canonical 〉🌽 (@JohnMu) July 28, 2022
And that's what it boils down to – creating an optimized ad experience that keeps users engaged and interested in returning to your site.
While simple in theory, achieving such a balance is no easy task and can consume countless hours of development and resources. And that's where we can help.
Boost Your Ad Revenue Without the Hassle With Adnimation
A Google Certified Publishing Partner (GCPP), Adnimation's leading SaaS platform combines advanced technology with a hands-on professional touch to maximize your ad revenue by placing less ads for higher prices.
Adnimation is all about serving the publisher. In fact, we don't even offer solutions to advertisers, and we couldn't be prouder of that fact – as it allows for our interests to be 100% in line with yours.
Get in touch with our team and learn how Adnimation can help boost your ad revenue, without the hassle.