You want to work with a Google Certified Publishing Partner (GCPP), but can't find the list?
We got you covered.
In this article, we'll not only show you where you can find a list of GCPPs, but explain the key differences between GCPPs.
Google Certified Publishing Partner List
You can find the official GCPP list here on Google's website.
For example, Adnimation's GCPP profile can be viewed here.
But that's the easy part.
The hard part is choosing which GCPP will best fit your needs.
To make that decision, it's important to look at several key factors.
What to Look for in a Google Certified Publishing Partner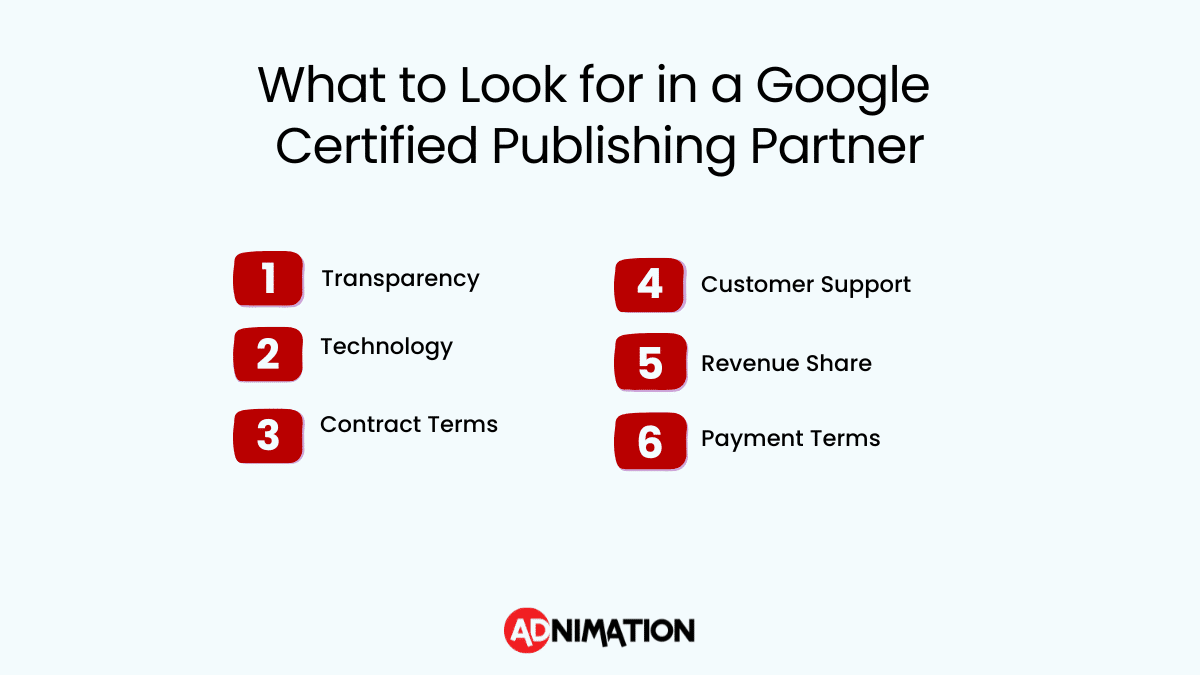 Transparency
It's a long journey from the advertisers' bank account to yours. It's a complicated and multi-step process with a lot of different players involved.
That is why it's important that your GCPP is fully transparent, so you can have the full picture of your revenue.
At Adnimation, we show our partnering publishers their gross revenue, not just the net figure after the revenue share. Here are more reasons why it's important to have a transparent ad management company.
Technology
GCPPs use most of the same ad serving technology, but there are factors that can make a big difference.
One such factor is hybrid header bidding. From our experience, hybrid header bidding adds a great boost to your revenue.
Additionally, there are other crucial considerations, such as the method of ad code injection. It's vital to collaborate with a GCPP that utilizes lightweight and efficient code, ensuring it doesn't adversely affect your website's speed.
When evaluating potential GCPPs, ask how their technology differs from the competition. Obtaining a comprehensive understanding will enable you to make a more informed and discerning choice.
Contract Terms
Taking the plunge and working with a new company is a big step. But it's an even bigger step if they lock you in for a long contract.
Some GCPPs require publishers to sign long lock-in contracts.
Others, like Adnimation, believe that publishers should stay due to great results, not due to contractual obligations.
Customer Support
As we all know, good customer support is critical. Your site is your livelihood, and you need someone who will be able to help you solve any issues that might arise.
Make sure your GCPP offers you personalized service, as opposed to being just another ticket in their system.
Also, make sure that there are multiple ways to contact them.
For example, we offer service via phone, email, WhatsApp, Skype, and Telegram.
Revenue Share
GCPPs generally operate using a revenue share business model, meaning they take a percentage of your overall revenue.
A 75/25 revenue split (75% to the publisher, 25% to the GCPP) is the industry standard.
However, there are GCPPs that may offer a 80/20 split or even better terms, depending on your revenue generation.
Payment Terms
The industry standard is net 60-day payments, but there are GCPPs that offer better terms (Adnimation, for example, offers net 35).
FAQs
What Is a Google Certified Publishing Partner?
Managing advertising technology is complex, expensive, and time-consuming. That's why publishers use monetization companies to handle their ad sales.
To help publishers easily find reliable partners, Google started its GCPP program.
What are the Benefits of Working With a GCPP?
To begin, teaming up with a GCPP ensures that the company has passed Google's rigorous checks and has a history of achievements.
Furthermore, GCPP partners enjoy various advantages that can enhance your revenue, including:
Early access to Google's products.
Exclusive and personalized training programs.
An assigned strategic partner manager.
Access to resources exclusively available to partners.
Are All GCPPs the Same?
Definitely not! As explained above, each GCPP brings its own distinct methods and technology. That is why two different GCPPs can yield vastly different outcomes.
Grow Your Business With Adnimation
As a Google Certified Publishing Partner, we are committed to helping you grow your business.
Contact us today for a free consultation.