Adnimation's technological developments in the world of CTV and OTT monetization were the subject of an article featured on Forbes.com.
Written by veteran tech journalist Wayne Rash, the article showcased Adnimation's CTV ad monetization platform that enables publishers to harness the power of Google's video ads via Adnimation's unique Google CTV product.
One of the key features of Adnimation's CTV platform is its ability to collect demographic information on viewers through the use of a software development kit. The SDK collects data from CTV viewers and with the Google Ad marketplace, where the information is used to improve targeting.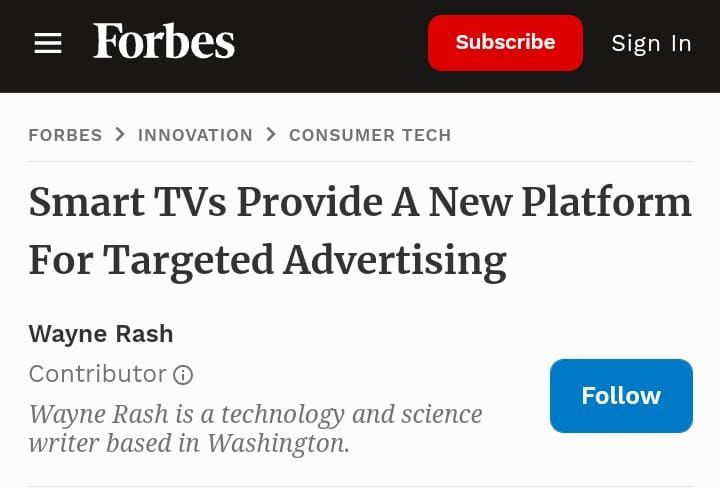 Tomer Treves, Co-Founder and President of Adnimation, discussed the advantages of CTV ads and why it creates a more personalized experience for viewers.
In addition to collecting viewer data, and it also helps publishers monetize their content. By utilizing Google's programmatic advertising, the platform allows publishers to create a more personalized experience for their viewers, while also increasing their revenue through targeted ads. This is a significant shift from traditional television, where most viewers watch the same show and see the same commercials, regardless of their individual interests.
Adnimation currently monetizes more than 1,000 CTV apps and channels, which are utilizing Adnimation's CTV platform to access Google's video demand to increase competition and maximize profits.
"We are excited about the future of CTV and the impact it will have on the advertising industry," says Treves. "With our platform, we are helping to bring the benefits of programmatic advertising to the CTV space and create a more personalized experience for viewers. We believe that this is the future of television and we are proud to be at the forefront of this revolution."
You can read the full Forbes article here.
To learn more, you can read this case study about a major CTV publisher who is earning more than $1,000,000 in monthly revenue with Adnimation, or get in touch with us today.