Rewarded video ads are an innovative advertising strategy that's a win-win-win for the publisher, user, and advertiser.
While the popularity of rewarded video ads has surged predominantly on mobile apps, these unique ad units are now breaking onto the scene for websites too.
In this article, we will go through everything you need to know about these rewarded ads and how to use them on your website.
What Are Rewarded Ads?
Rewarded ads, also known as incentivized ads, are a type of ad that incentivizes users to interact with an ad in exchange for a reward. In the case of rewarded video ads, the user watches a video ad to get the reward.
What is the reward? It can be, well, anything.
If you're playing a game on a mobile app, for example, a reward can be more tokens. On a website, it can be access to premium content.
Win-Win-Win
Rewarded video ads are a win-win-win for the publisher, user, and advertiser.
Publishers: Rewarded video ads give you an opportunity to generate additional revenue. In addition, it enables you to diversify your revenue streams and branch out from the traditional programmatic ad units.
Users: Rewarded video ads grant users with the ability to control their ad experience, which improves user experience. In addition, rewarded ads give users access to content or rewards that would typically require payment.
Advertisers: By opting in for a rewarded video ad, the user has no choice but to view it. For advertisers, this high engagement is very valuable and results in their willingness to pay higher CPMs.
Rewarded Video Ads on Mobile vs Website
Rewarded video ads on mobile and websites function similarly by offering rewards in return for viewing ads.
However, the user experience and implementation can vary based on the platform.
In mobile apps, rewards are typically in-app benefits like game currency or extra lives.
On websites, rewards can include access to premium content, discounts, or ad-free browsing.
5 Benefits of Rewarded Video Ads on Websites For Publishers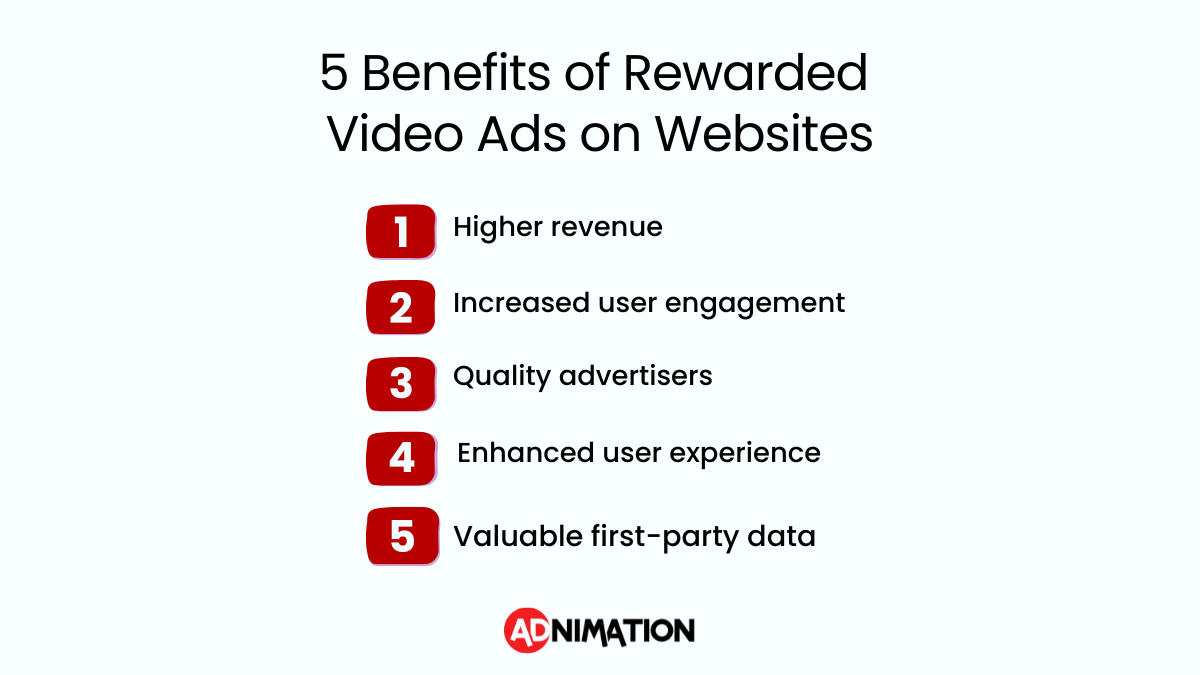 Rewarded video ads for websites provide you with a myriad of benefits:
Higher Revenue: With higher engagement and completion rates, rewarded video ads typically yield higher CPMs (cost per mille) than traditional ad formats, boosting your website's overall ad revenue.
Increased User Engagement: Rewarded video ads often result in higher engagement rates as they incentivize users to interact with the ad content. This can lead to better ad performance and enhanced user activity on the website.
Quality Advertisers: Rewarded video ads attract high-quality advertisers producing engaging, professionally made content. This can lead to an improved user experience and increase the likelihood of users interacting with the ads.
Enhanced User Experience: Unlike interruptive ad formats, rewarded video ads are opt-in. This means users choose to view the ads, enhancing their experience and reducing the chances of ad fatigue or frustration.
User Data Collection: With Google Offerwall, users can choose between watching a video or filling in their personal interests. The latter leads to valuable first-party data that helps better target users.
How Much Do Rewarded Video Ads Pay?
The pay for rewarded video ads varies based on factors like ad placement, user geography, the quality of the user base, and the type of reward offered.
Generally, rewarded video ads offer higher eCPMs (effective cost per mille) than traditional ad formats due to their high engagement and completion rates.
To generate the highest possible revenue from rewarded video ads, we advise to partner with a trusted and experienced ad management company like Adnimation.
How Do I Implement Rewarded Ads On My Website?
To implement rewarded ads on your website, partner with a trusted ad management company that can provide the necessary infrastructure and guidance.
They can help identify suitable ad formats and placements and assist with technical integration. Remember to align the rewards with your website's offerings and ensure the ads are seamlessly integrated into the user journey.
As a Google Certified Publishing Partner (GCPP) and Google AdX Partner, Adnimation received early access to Google's Offerwall, a new beta program launched by Google to help maximize rewarded video ad revenue for websites and help unlock valuable first-party data.