Congratulations! You've made it to this article, which means you did the research and already know that you can be earning significantly more ad revenue with Google AdX.
First step, completed.
Now, the next step is finding a reliable Google AdX Partner that will help you take your revenue to the next level.
In this article, we'll cover everything you need to know about choosing the best possible Google AdX Partner.
What Is a Google AdX Partner?
A Google AdX Partner is a third-party company that has been authorized by Google to help publishers access Google AdX. The partners do so through the Google MCM program, a special program created by Google to help publishers who aren't eligible for AdX on their own access the premium marketplace.
Google AdX Partner vs Google Certified Publishing Partner (GCPP)
This is a good time to talk about the differences between a Google AdX partner, also known as an MCM partner, and a Google Certified Publishing Partner (GCPP).
GCPP is Google's highest level of publishing partners.
While there are a relatively large number of MCM partners, there are only a select number of Google Certified Publishing Partners.
GCPP companies like Adnimation must meet even more rigorous criteria than MCM partners, including a comprehensive vetting process, product certification exams, and a proven track record of success.
Why Can't I Access Google AdX on My Own?
If you comb through the internet, you won't find any way to apply for Google AdX. That's because the only way to join is for Google to invite you. And it only invites very large publishers to join.
There is no official number of monthly pageviews that will get you invited, but it could be anywhere from five million monthly pageviews and up.
Benefits of Using a Google AdX Partner
In addition to getting access to AdX, working with a Google AdX Partner comes with other benefits as well.
That is why many very large websites that were invited to join AdX still use a AdX partner to monetize their websites.
Here are some benefits of working with a Google AdX Partner.
Expertise in Ad Tech and Maximizing Revenue
Unlike AdSense, AdX requires active management and optimization. There is no magic AdX button to press that will grow your revenue.
We wish it were that easy.
AdX and Google Ad Manager are complex tools that require years of practice to master.
Therefore, to earn more with AdX you need to have a deep understanding and vast expertise in the platform's capabilities, features, and best practices.
Working with a high-level AdX Partner can offer you this. They can provide you with customized strategies to optimize your ad inventory, increase your revenue, and improve your UX.
Header Bidding and Additional Demand Sources
High-level AdX partners will not only connect you to AdX. They will implement header bidding and increase competition by utilizing additional demand sources like Amazon, Magnite, OpenX, and others.
An increase in competition leads to higher CPMs as more advertisers are vying for your ad inventory. This directly translates to more revenue for you.
Real-Time Analytics and Reporting
AdX partners offer real-time analytics and reporting. This allows you to track the performance of your ad inventory, identify areas for improvement, and make data-driven decisions to optimize revenue.
Customer Support
Google is a giant company, and it's no easy task to reach them if you have a question. Google AdX Partners have a direct line to Google and can reach out to help resolve any technical issues that may arise.
Testing and Experimentation
AdX partners are constantly trying to improve, and therefore provide publishers with access to advanced testing and experimentation tools to optimize their ad inventory and improve their user experience.
They can also help publishers implement more advanced ad formats such as video ads or native ads, and test their performance.
What to Look For In a Google AdX Partner
Now that we covered all the background information on AdX partners, the question still remains: how to choose the best one?
For that, it's important to know what to look for.
These are the most important things to look for in a AdX Partner: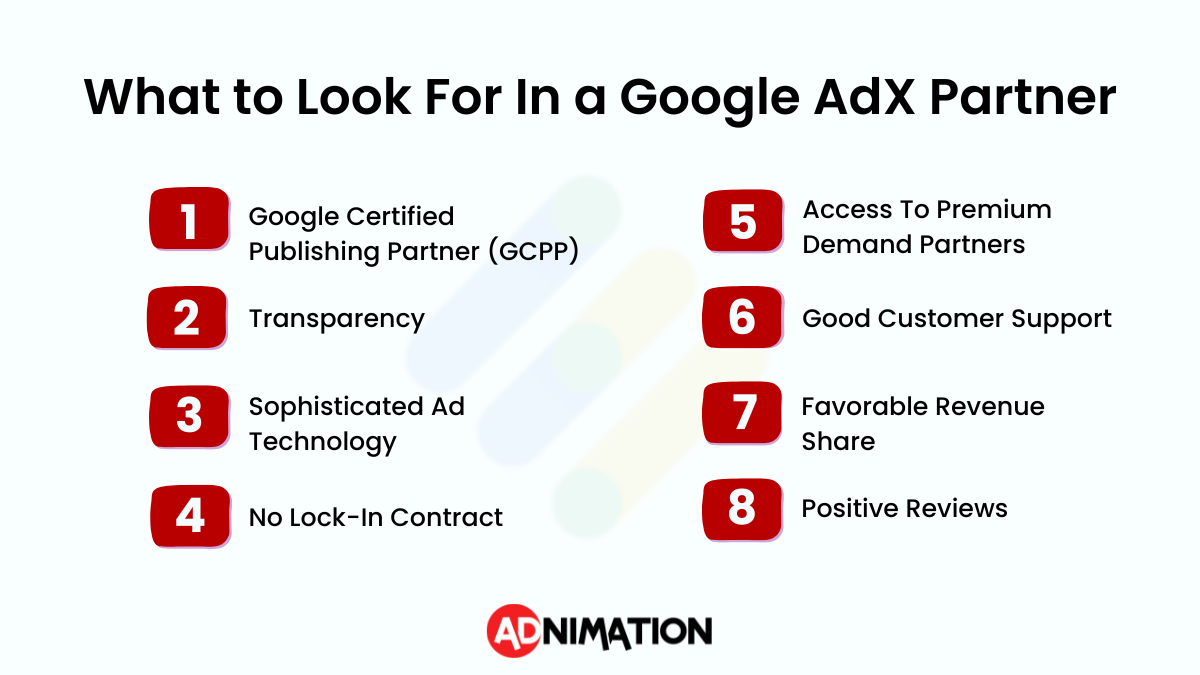 GCPP
There's a reason that Google only grants it's prestigious GCPP status to a select number of companies.
In addition to being thoroughly vetted by Google, a GCPP has access to additional resources that can help them provide better support to publishers.
That's why we recommend working with an AdX partner that's also a GCPP like Adnimation.
Transparency
Transparency is critical when choosing an AdX partner.
You want to work with a partner that is transparent about their processes, fees, and performance metrics.
Unfortunately, the industry practice is to only show publishers their net revenue. In other words, most publishers don't know how much they are actually making and how much their AdX partner is taking as a fee.
That is why we at Adnimation make it a point to be fully transparent and show our publishers their gross revenue.
Sophisticated Ad Technology
Not all ad tech was created equal.
While most AdX partner possess all the standard ad tech, there are certain innovative technologies like hybrid header bidding that can significantly increase your revenue.
No Lock-In Contract
To us, a lock-in contract is a big red flag. Publishers should stay with their AdX partner because of good results, not because they are contractually obligated.
That is why we at Adnimation never have, and never will require our partnering publishers to sign a lock-in contract.
Access To Premium Demand Partners
In order to maximize your revenue, you need additional demand sources to compete with AdX.
This increased competition will drive up prices and will earn you more money.
When looking into an AdX partner, make sure they work with the leading demand partners in the industry, like Amazon, Magnite, OpenX, AppNexus, TripleLift, and others.
Good Customer Support
There's nothing more frustrating than a company that doesn't answer its phone or messages.
That's why it's important to work with an AdX partner that has a dedicated customer support team and won't keep you hanging high and dry.
Favorable Revenue Share
Google AdSense takes a revenue share of 32%, meaning you only receive 68% of your revenue.
That's why it's important to work with an AdX partner that gives you a good revenue share agreement. The typical revenue share in the industry is 25%, but there are companies that are willing to go lower, especially for quality websites.
Positive Reviews
Client testimonials and review are a good way to gain insights into a company. When looking into an AdX partner look up their reviews to see what other have to say.
List of Top Google AdX Partners
Adnimation
PubGalaxy
Ezoic
AdPushup
Publift
Bottom Line
Partnering with an AdX partner is an important step to maximizing your ad revenue.
No less important is partnering with the best possible AdX partner. Of course, we recommend using Adnimation.
Our advanced technology mixed with our professional human touch enables us to best serve our publishing partners and get them the highest possible revenue.
If you are interested in learning more, or would just like a free consultation, please feel free to get in touch with us.