Naturally, all publishers want to increase their website traffic, and they understand plenty of ways to do this.  From keyword-based content, search engine optimization (SEO), email marketing, social networks – these are all basic and obvious methods. Read on to hear our five original non-SEO ideas for boosting that traffic even further.
The Obvious #1: Internal Related Content
Increasing traffic to a website does not only mean getting more visitors. Once someone visits the website, it's up to publisher to maximize the visit duration. The more page-views per visitor, the higher the engagement and ad impressions, and so the higher the ad revenue. Without going overboard with multiple-page galleries (how very 2015!) it's still recommended to add eye-catching internal recommendations to encourage more page-views per visitor. While most publishers can still improve with internal related content recommendations, this tip is nothing new.
The Twist #1: Exit Popup for More Website Traffic
So you want to increase page-views? Well, why not add an exit popup with internal content recommendations? So, just when the user is about to leave the website – whether through mouse movement/time counter on desktop/mobile – open a large overlay popup window with an invitation to the website's best content. This could include the most popular posts, related posts, or even a single recommendation with an inviting photo and headline.
High quality publishers wouldn't normally use popup windows for ads, as they're often considered too intrusive. However, when it comes to suggesting internal related content these popups may be considered reasonable, especially upon exit intention. If implemented correctly, this can add a page-view for a high percentage of visitors, boosting measured website traffic, and increase ad revenue accordingly.
One recommended tool for such a pop up is Sumo – and no, we don't get a fee to promote anyone in this list, they're really just very good!
The Obvious #2: Email Marketing
An important asset for publishers is the email list of subscribers to the website. Unlike social networks, third party approval isn't needed to approach readers and attract visitors directly. It's strongly recommended to actively collect email subscriptions and send them regular emails inviting them to read more within the website.
Clearly this tip is almost as old as the web and most publishers try hard to collect email addresses. Yet normally, the growth rate of a list is slower than the publisher's needs and expectations.
The Twist #2: Petition for Much More Website Traffic
So, here's the twist! Until this method would be exhausted – and we're still far from there – publishers can get a serious boost to their email list through a petition. In any field and niche a petition tends to attract attention. When people believe in a cause, they're happy to join the petition and then share it onward to their friends, expanding the subscribers circle.
Clearly, I'm not suggesting that you abuse your audience's good intentions. You should think of a petition with some substance in it. Bringing back a beloved nostalgic TV series, showing support to a sports club, or calling on the UN to bring peace to a certain war zone – be creative and real. I worked with a publisher who managed to get 135,000 new email addresses through a petition. It's worth trying!
If you built your website with WordPress, here's an easy plugin you can use.
The Obvious #3: Social Networks
Social networks are nothing new. Facebook, Twitter, Pinterest – all can be a major source of traffic. And to a lesser degree so can Instagram and Snapchat – although they're not as easy to share outgoing links. Engaging with your audience through social networks is the fastest growing source for website traffic. This is still true even after the Facebook algorithm changes that slowed down organic reach. If you're thinking – nothing new here – you're right. This is basic, but important.
The Twist #3: Top Influencer List for More Traffic
Now you can do even more with social networks.
For example, you can get more traffic to your websites by editing and publishing the most influential people in your niche. When done right, with good content, high quality photos, and real research, people will be happy to be included. And moreover, they will probably be happy to share it with their friends (and so will their parents.)
These influential people will also likely have a lot of followers, who are now exposed to your website. Be sure to use a good exit popup for email subscriptions, to leverage the boost in traffic into returning visitors. As an example, BikeRadar published a list of 'The 15 most influential people in British road cycling' which immediately received 76 shares and reached thousands of relevant potential visitors.
The Obvious #4: Content is King
No publisher needs this list to know the importance of original high-quality content. At the of the day, content websites are about… well, content. And the better the content, the higher the chances that people would like to read it, share it, and signal to search engines and social networks to increase the reach and exposure. Content was, and still is, king and treating it as royalty is always an excellent idea.
The Twist #4: Evergreen Content to Increase Traffic
Invest time and resources to create and publish evergreen content which will always be true and relevant to your niche. This could be a 'Hall of Fame' for the top in your field, a glossary of definitions for your niche's terminology, or a detailed guide of how to do the basics of whatever you're writing about.
To make it work, the evergreen content should consist of plenty of original content posts, each devoted to a specific person or keyword, that adheres to all basic SEO rules. To be 100% sure it follows these rules, we recommend installing the Yoast plugin, and making sure all pieces of content get its green light. This expansion of your website will help increase organic traffic and while it takes time, it's definitely worth it.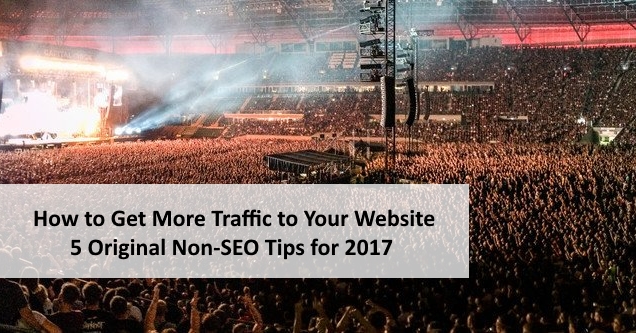 The Obvious #5: Focus on Publishing
Many publishers ask me if I have solutions to get them more traffic, but sadly, there's no magic powder to scatter over the website and increase the stream of visitors. As the voice whispered in Kevin Costner's ear: "If you build it, he will come." Put simply, the best way to get readers is to create the best possible content for your audience.
The problem is that many publishers mistakenly spend a large part of their time and resources on other things. They think that since the ads bring in the money, this is where their focus should go.
And so, the obvious tip here is to focus on the core of publishing – content and distribution. Although, perhaps this isn't so obvious as when most publishing teams step out of their routine to examine their work, they discover that they are spending less than half of their resources on this core area.
The Twist #5: Outsource Programmatic for More Website Traffic
Managing the ad sales on websites take a lot of attention, resources, and even emotional labor.
Many publishers report that other areas take a major part of their resources and efforts – the continuous struggle with ad exchanges and ad networks, advertising technologies like header bidding, challenges like Facebook Instant Articles and content recommendations.  The sad truth is that it's not their strength. As a result they don't maximize the ad revenue potential, leaving money on the table.
The twist suggested here is to hire an outsource team to manage programmatic ad sales. A professional team of monetization experts can manage all your ad sales, from set up of the DFP, through managing the ongoing auction between the exchanges and networks, and on to collecting all the different payments and delivering them to you on time in one single payment.
Outsourcing can take this burden off your shoulders, allowing your team to focus their efforts on the core publishing activity. When you reassign this time and your resources back to content and social networks, your website traffic will grow. And you can start with the original ideas suggested here in this list!
And the bonus? An outsource service can actually earn you higher ad revenue, giving you even more resources to invest in growth. My team here at Adnimation has seen this over 100 times. We join a publisher, release their team time and resources to invest in content, which then earns them higher ad revenue. And so, this allows us to grow together.
Finally, are you interested in knowing more? Send us a message using the form below and one of our team will get back to you within 24 hours.