We recently partnered with a large publisher in the tech niche, who switched to Adnimation after being nearly two years with another well-known ad management company.
In the first two weeks alone, we not only doubled their revenue, but improved their UX and site speed.
Rather than going into lengthy details about our process, we prefer to let you hear it directly from the source – the publisher.
To protect the privacy of all parties involved, we will refer to the publisher's former ad management company as 'X'.
In the Publisher's Own Words: From Frustration to Success
Screenshot of the email sent to us by the publisher: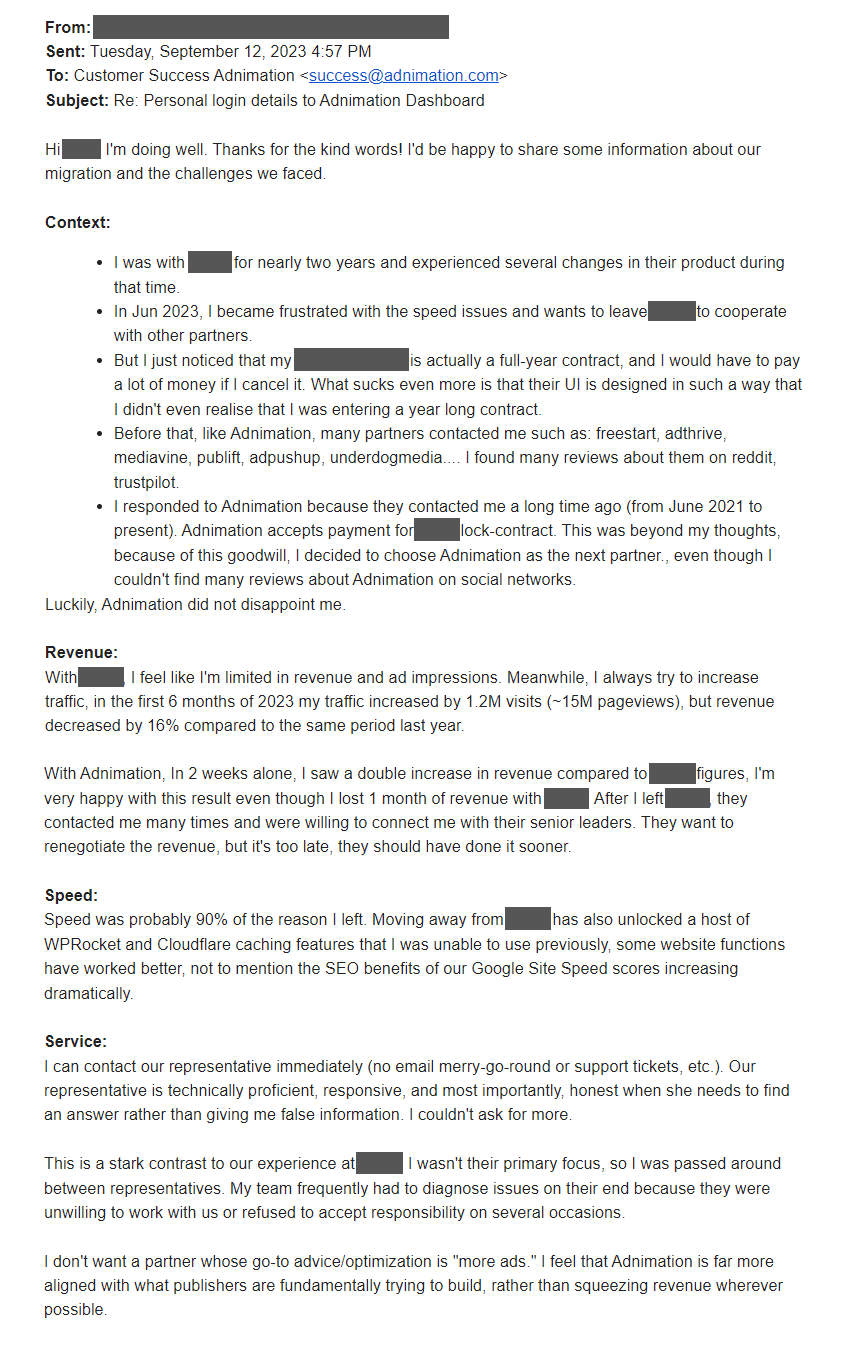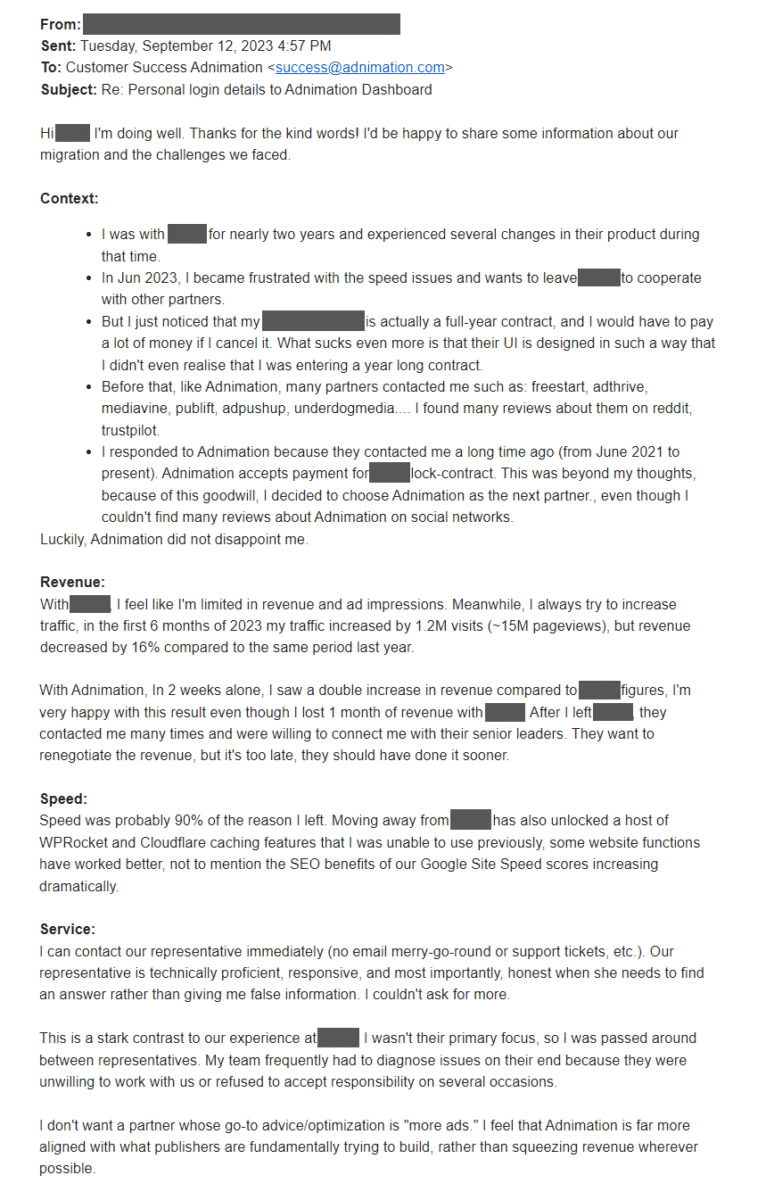 *Yellow added for emphasis:
Context:

I was with X for nearly two years and experienced several changes in their product during that time.
In Jun 2023, I became frustrated with the speed issues and wants to leave X to cooperate with other partners.
But I just noticed that my X [account] is actually a full-year contract, and I would have to pay a lot of money if I cancel it. What sucks even more is that their UI is designed in such a way that I didn't even realise that I was entering a year long contract.
Before that, like Adnimation, many partners contacted me such as: freestart, adthrive, mediavine, publift, adpushup, underdogmedia…. I found many reviews about them on reddit, trustpilot.
I responded to Adnimation because they contacted me a long time ago (from June 2021 to present). Adnimation accepts payment for X lock-contract. This was beyond my thoughts, because of this goodwill, I decided to choose Adnimation as the next partner., even though I couldn't find many reviews about Adnimation on social networks.

Luckily, Adnimation did not disappoint me.

Revenue:

With X, I feel like I'm limited in revenue and ad impressions. Meanwhile, I always try to increase traffic, in the first 6 months of 2023 my traffic increased by 1.2M visits (~15M pageviews), but revenue decreased by 16% compared to the same period last year.

With Adnimation, In 2 weeks alone, I saw a double increase in revenue compared to X figures, I'm very happy with this result even though I lost 1 month of revenue with X. After I left X, they contacted me many times and were willing to connect me with their senior leaders. They want to renegotiate the revenue, but it's too late, they should have done it sooner.

Speed:

Speed was probably 90% of the reason I left. Moving away from X has also unlocked a host of WPRocket and Cloudflare caching features that I was unable to use previously, some website functions have worked better, not to mention the SEO benefits of our Google Site Speed scores increasing dramatically.

Service:

I can contact our representative immediately (no email merry-go-round or support tickets, etc.). Our representative is technically proficient, responsive, and most importantly, honest when she needs to find an answer rather than giving me false information. I couldn't ask for more.

This is a stark contrast to our experience at X. I wasn't their primary focus, so I was passed around between representatives. My team frequently had to diagnose issues on their end because they were unwilling to work with us or refused to accept responsibility on several occasions.

I don't want a partner whose go-to advice/optimization is "more ads." I feel that Adnimation is far more aligned with what publishers are fundamentally trying to build, rather than squeezing revenue wherever possible.
Supercharge Your Ad Revenue With Adnimation
Adnimation is a Google Certified Publishing Partner (GCPP) that has a decade of experience helping hundreds of publishers in the US and worldwide increase their ad revenue.
By utilizing leading technology combined with a professional hands-on approach, each of our publishers receives a personalized solution tailored to yield the best possible results.
To learn more about how we can help, feel free to get in touch with us today.