Adx or AdSense?
I want to earn more from ads on my website and I'm not sure which monetization tool yields higher ad revenue – Adx or AdSense?
This is probably the question that I get to hear the most, especially from medium size publishers. And so, after analyzing over 400 websites, I think we have a winner…
Google Adx should earn you higher ad revenue when compared with Google AdSense. But unfortunately, it's not that simple.
Here are some actionable tips for increasing ad revenue and making the decision – Adx or AdSense.
Sometimes AdSense beats Adx
In very few cases we found websites where Google AdSense ad placements earned higher CPM than Google Adx.
The most prominent example is AdSense ads within gallery pages. When a post has numerous pages and a Google AdSense ad is placed close to the next button, it may happen. Visitors mistake the arrow icon within certain AdSense ads for the page's next button and eventually click on the ad by mistake.
The relatively high click through rate (CTR) works well in the per-click (PPC) environment of AdSense. And the bottom line revenue per page-views (RPM) may be higher than the AdSense alternatives.
However, such higher earnings stem from a misleading placement. Eventually, advertisers will not receive the expected behavior from the clicking visitors. The high bounce rate will lead to lower bids and the RPM will decrease. So this example of AdSense beats Adx is only for the short term.
Another example is in narrow niches. For some websites with narrowly focused content, it seems like AdSense yields higher ad revenue than Adx. One explanation is the higher engagement of visitors and the contextually relevant ads.
However, from our analysis, this AdSense win over Adx is only viable when the activity within Adx is not proactively managed.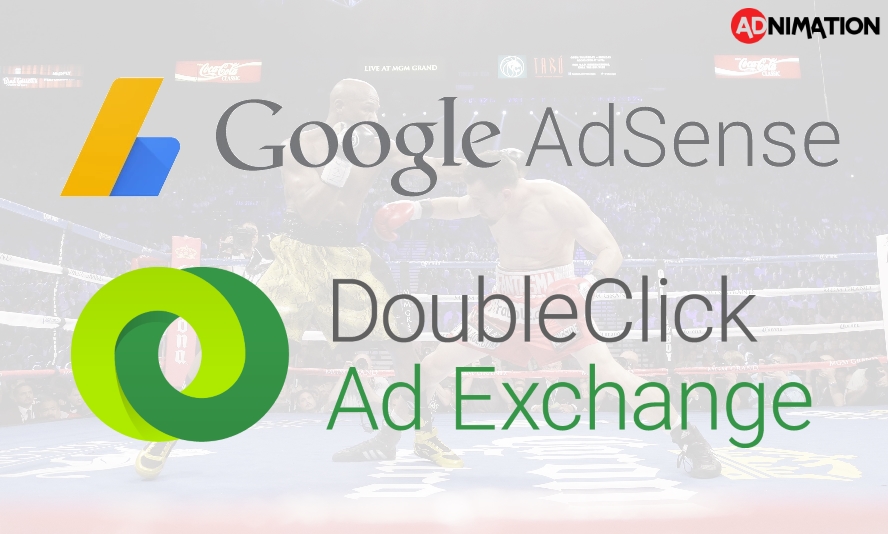 Adx vs. AdSense – The Differences
This would be a good time to explain the fundamental difference between Google AdSense and Google Adx.
AdSense is a self-service ad marketplace aimed for bloggers and smaller websites. Publishers place the AdSense tags strictly on the page and hope for the best.
Working with AdSense, publishers are highly limited in their ability to manage the ads. In fact, the entire technology behind it seems to favor advertisers. The marketplace attempts to give advertisers the lowest priced impressions, which means publishers get the minimal price. It also focuses on click-based campaigns.
The DoubleClick AdExchange, also known as Google Adx, is a much more sophisticated marketplace for high-end advertisers and large publishers. Within the premium marketplace Google Adx there are much more CPM bids, that pay for impressions even with lower CTR.
Moreover, Adx allows publishers to manage their programmatic ad sales with much more flexibility. The management tools empower publishers to increase the bids they get. Instead of working in an environment that minimizes the price for advertisers, it's an open marketplace.
When managed correctly, Adx will win over AdSense almost every time and especially for the long term. Our AdSense vs. Adx analysis shows a clear advantage and higher ad revenue in managed Adx.
Manage Adx for Higher Ad Revenue
Adx or AdSense? The answer is that Adx, but only with proactive smart management.
It seems like the entire ad-tech field works to get advertisers a lower price. An advertiser bids $10 and wins the bid of $0.50. The job of the proactive management within Adx is to find that $10 bid and let the advertiser win much close to the higher price.
When done correctly, both sides are still happy. The advertiser wins the bid at the price they set. And the publisher earns much higher programmatic ad revenue.
Such proactive management for Adx takes a lot of work on a daily basis and requires unique tools, expertise and knowledge. One does not simply place Adx tags and hope for the best. Yet this hard work yields excellent results.
How to get into Adx?
We proactively manage the activity within Google Adx for hundreds of websites using our own technology and a team of experts. For all of our publishers we manage to earn higher ad revenue with Adx when compared to AdSense.
However, there is no button to click and join Google Adx. Only huge websites are accepted into Adx directly. For most medium and large websites, the only option to enter Adx is through a Google Adx Network Partner.
Google Adx granted a limited number of licenses to companies who help publishers to manage their activity within the premium marketplace.
Oh, and even then, I recommend not to leave Adx to work alone. In the absence of competition, numbers will eventually work against you. Publisher should add competition against Adx, whether within DFP or using header bidding technology.
Here at Adnimation, we help publishers with both – joining Google Adx with proactive management and implementing header bidding technology with multiple demand sources. If you want to learn more, drop me a word and we can schedule a call.